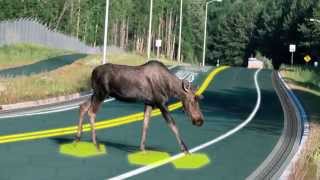 By paving America's roads and parking lots with their special panels,
the Brusaws claim, our nation could generate more than three times the
country's electricity consumption in 2009. However, critics say that
transportation officials can barely afford to fund America's existing
concrete and asphalt roads, let alone ones lined with solar panels.
(Solar Roadways argues that states' departments of transportation don't
get enough money from the gas tax to repair roads, and that solar
highways would increase energy savings.) They also question the panels'
long-term durability.
A Section of Route 66 Will Become America's First Public Solar Road | Mental Floss